Spring 2018 Site Visit Report
May 2, 2018
Our spring site visits began with the winding drive up the mountain to Kanpetlet to be present for the opening day of our second four-week intensive English teacher training program, the result of a productive partnership with the Cetana Educational Foundation. Demand for the program is evidenced by a more than 50% increase in last year's number of participants, and several of the Metta Partners helped interview the 39 teachers enrolled this year to determine their skill level. Particularly special for us this year is that one of the older youth living at the Metta Geha Children's Home is participating in the course. Participating teachers have consistently asked for additional opportunities to practice English speaking skills throughout the year, and we are in dialogue with a Chin educator from Mindat, who is completing a graduate degree and has interest in setting up an English language program in Kanpetlet.
During our time at Metta Geha, we learned that several of the children have been struggling with serious health issues. We were gratified to be able to activate a willing, capable, and loving local support network to help them access treatment. Based on this experience, we are discussing how we can better support Metta Geha leadership in addressing the children's medical needs. Vocational preparation for children aging out of Metta Geha is still a clear need and increasingly seems like the right focus of our work.
After winding our way down the mountain from Kanpetlet, we visited the Sanda Rama Monastic School. The water purification project, which we were thrilled to see launch back in September, is already meeting income goals by supplying an impoverished area with clean, safe, affordable water for which the demand is significant. The proceeds are supporting competitive salaries, which will aid in attracting and retaining excellent teachers. A consequence we had not predicted, and enjoyed seeing, is that several local residents have purchased carts and started small businesses delivering water to their neighbors.
Meanwhile, the Young Learner's Program at Sanda Rama, which we began this spring in collaboration with the Cetana Educational Foundation, is offering Saturday classes to over 100 first through eighth graders from both the school and the surrounding community. Sanda Rama teachers, who have benefited from nine months of instruction, are aiding the more experienced teachers provided by Cetana; this increases the Sanda Rama teachers' individual English fluency, as well as their expertise in language teaching methodologies.
Enrollment at the Sandra Rama Monastic School has increased to 513 students. Head of School Ashin Sanda Wara has applied for permission to add additional grades, which will require more space. The health clinic, which serves both students and community members and which we learned in January had closed, has still not reopened. A priority for the coming monthsis to work with Ashin Sanda Wara on its reopening.
---
Trip Report: January 2018
January 20, 2018
Our trip began with a visit to the Sanda Rama Monastic School outside of Yangon. There, we were thrilled to find that the water purification system has been in operation since December 1!
The English teacher training program we launched at Sanda Rama in partnership with the Cetana Educational Foundation last February continues with a weekly five-hour visit from Nang Ji, who taught the initial four-week intensive course last year. Sanda Rama leadership seeks to expand the program with a second annual installment of the intensive, as well as the addition of two new initiatives: a Young Learner's Program, which will offer Saturday English classes for local students in grades one through eight; and the creation of an English Learning Lab, which will support the instruction provided to Sanda Rama teachers, Sanda Rama students, and the local youth in the Young Learners Program.
We learned during our visit that the school's small health clinic, which serves both students and community members and often sees upwards of 30 people in an afternoon, has closed due to lack of funding. We seek to raise the approximately $5,000 it will take to reopen the clinic with a doctor available three days a week.
Sanda Rama has set clear priorities for 2018, which are refining management of the water project, building a reliable stream of revenue for teacher salaries, and continuing to improve the English language skills of the leadership and teachers. We look forward to working with them on each of these initiatives.
Our journey continued with a visit to our projects in Kanpetlet in the Chin Hills. There, we found the children at the Metta Geha Children's Home, our first and longest standing focus, in good health and full of energy. We learned that in a recent government inspection of children's homes in Kanpetlet, Metta Geha not only passed, but received the highest possible rating. We were pleased and proud, but not surprised.
Many of the children in residence when we began our work with Metta Geha are now young adults and we are thinking with them about future plans. In Myanmar, any post secondary education requires private funding since colleges and vocational training programs offer no financial aid or scholarships. In order to assist current and future residents transition into productive livelihoods, Metta Partners is establishing the Metta Geha Youth Transition Fund. A generous donor will match gifts up to $25,000 to launch this fund that will pay for the costs of post secondary schooling for these young people. With the education and skills to earn a meaningful living, they will be able to contribute to the well-being of their families and communities, and set an example for the youths who follow them.
Our Kanpetlet-based English language training program for teachers has met with a similarly enthusiastic response to the one at Sanda Rama and we are scheduling another four-week intensive this spring. Last year's program model will be improved to include more regular and structured follow-up to the initial course. We are working with the Parahita (Oversight) Committee to find a qualified volunteer to lead a weekly study group and are also looking into language software that will work with the (limited) computers in Kanpetlet.
During a meeting with last year's program participants, teachers reported that they felt more confident teaching English, had better English pronunciation, and learned from workshop leader Dr. Janet Powers some instructional techniques that improved both their teaching and their classroom management.
Though international tourism in the Chin State is down, local tourism has increased and we were pleased to see the positive effects on Kanpetlet. We are working with the Parahita (Oversight) Committee on seeking additional sources of funding from new hotels and businesses in the area; meanwhile, we continue our the shift from funding basic needs to funding teacher training and transition support for older children preparing for careers.
---
Announcing a New Partner
January 19, 2018

We are thrilled to announce that Hang Za Thawn has agreed to join Metta Partners.
Thawnno, as he is known, currently serves as a Senior Justice Sector Advisor for the British Council in Yangon. He was previously the Director of Training for the Supreme Court of the Union of Myanmar and has also served in several roles related to sustainable development. Particularly valuable in our work with the Metta Geha Children's Home is his expertise gained during seven years as a Child Protection Specialist for UNICEF.
Thawnno has accompanied us on our past two visits to Kanpetlet. A native of Tiddim, located in the northern part of the Chin State, he is fluent in Chin and has already helped us deepen and extend our relationships with the community. He has been a wonderful travel companion, a thoughtful observer, and an insightful contributor to our conversations and our work. We are thrilled that he has agreed to take on a more formal role with Metta Partners.
---
Our Next Trip: January 2018
November 14, 2017
We recently gathered to review the status of our projects and to set priorities for the coming year. Our January trip to Myanmar will include visits to the Metta Geha Children's Home and to the Sanda Rama Monastic School. At Metta Geha, we will check in on the children's well-being, discuss future plans for those preparing to take their matriculation exams, and ensure that everything is in order for the third session of our English teacher training program. At Sanda Rama, we'll check in on the status of the water purification project and discuss plans for the next installment of our English teacher training program; the launch of a Young Learner's Program, which will offer Saturday English classes for local students in grades one through eight; and the creation of an English Learning Lab, which will support the instruction provided to Sanda Rama teachers, Sanda Rama students, and the local youth in the Young Learners Program. We continue to partner with the Cetana Educational Foundation on our teacher training and English education efforts.
---
Water Purification Project Funded
September 2, 2017
We are excited to announce a very generous donation to enable the Sanda Rama Monastic School to purchase a transformer, which is critical to launching their water purification project. In an area with unreliable electricity, the transformer will provide the consistent, adequate voltage necessary to run the system, enabling clean, safe drinking water to be provided to the students and made available for purchase in the surrounding community. Proceeds from the water sales will fund a permanent increase in teacher salaries, allowing Sanda Rama to retain the talented and progressive educators who make this school distinctive. This project—the brainchild of school principal Ashin Sanda Wara—provides for the education and health of vulnerable children, while also improving the well-being of the surrounding community. We extend thanks to donor Thet Thet Naing and her daughter, Nay Chie Thet, for their extraordinary generosity.
Monastic schools play an important role in Myanmar's education sector, providing basic education for children from poor families who lack access to or are unable to afford government schools. Monastic schools adopt the public school curriculum and may receive government accreditation. Most provide free textbooks and some also provide accommodation and meals.
---
Trip Report: April 2017
May 4, 2017
Given how productive and satisfying we found our January trip, we were fortunate to have Metta Partners Ba Win, Emily Fisher, and Jennifer Fisher return as some of our newest programs launched.
More exciting than knowing the teacher training program at Sanda Rama Monastic School had launched was arriving to find a class in progress. Students are fortunate to be learning from Nang Ji, Director of the Cetana Educational Foundation's English Language Academy in Yangon. Our visit fell during the fifth week of the 10-week course and the conversation was lively.
Arrangements for the necessary permitting for Sanda Rama's water purification system are underway. Still critical to the project's success is securing a transformer to provide the additional and reliable voltage necessary to keep the system running consistently, and Metta Partners continues to work with Sanda Rama leadership on securing the necessary funds. As of the third year of operation, the school should realize a profit, enabling a permanent increase in teacher salaries. A supply of safe, clean water for the students and the surrounding community would be a huge benefit on its own; that it provides a way for Sanda Rama to retain high quality teachers is a model we feel especially good about.
After an inspiring visit to Sanda Rama, it was on to Kanpetlet to launch our second teacher training program. Twenty-five teachers were welcomed on their first day by Ba Win, Jen, and Emily. They will spend the month learning under the tutelage of dynamic duo Janet Power and Chaw Su who, like Nang Ji, teaches in Cetana's English Language Academy. This intensive session will be followed by a weekly conversational group in which teachers can maintain and hone their skills, and the program be expanded to a second location in the Chin State in order to be accessible to a larger number of teachers in this rural and rugged region.
We were fortunate to be accompanied on this visit to Kanpetlet by a Chin friend and colleague with experience in child welfare. An experienced observer of children's homes, he was able to confirm that Metta Geha is clean, safe, and loving and that the children look very well cared for. He was also an engaged and helpful participant in discussions with the community oversight committee, bringing a unique perspective and suggesting additional ways for us to deepen our involvement in the Kanpetlet community.
---
Sanda Rama Teacher Training Program Launches
March 23, 2017
Sixteen faculty members are improving their ability to teach English through our training program at the Sanda Rama Monastic School. This six-month course, which is run in partnership with the Cetana Educational Foundation and modeled on our joint program in Kanpetlet, launched on March 11.
Monastic schools play an important role in Myanmar's education sector, providing basic education for children from poor families who lack access to or are unable to afford government schools. Monastic schools adopt the public school curriculum and may receive government accreditation. Most provide free textbooks and some also provide accommodation and meals. The curriculum at Sanda Rama embraces critical thinking and the school's active sports regime is an unusual part of the program.
---
Our Next Trip: April 2017
March 15, 2017
During a short upcoming trip, we will oversee the launch of the Kanpetlet teacher training program through which local English teachers will undertake an intensive program in conversational English instruction. We will also convene a community conversation on the safety of Metta Geha residents as they walk to school, and lay groundwork for a program that will give students from isolated mountain towns the opportunity to learn about a variety of career opportunities.
---
Trip Report: January 2017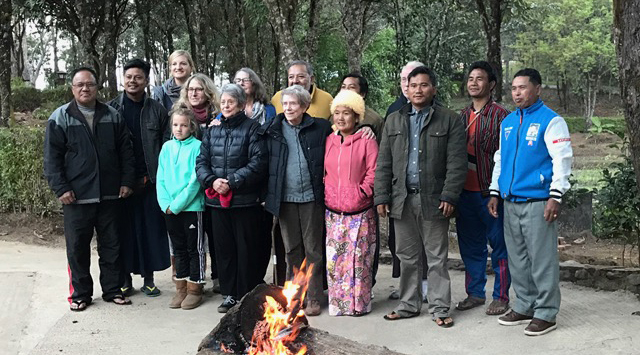 March 6, 2017
A decade ago, we began raising funds to construct permanent living quarters for the children at Metta Geha and to meet their immediate needs for food, clothing, health care, and school fees. As our relationships and projects evolve, we find ourselves facilitating community-led, long-term strategies, joining with local partners to create sustainable models over time. This evolution in our work was evident during our January trip.
Metta Partners has learned from community leaders that conversational English skills will open up employment opportunities for young people in Kanpetlet. This April, in partnership with the Cetana Educational Foundation, we will launch a teacher training program to improve the teaching of English in the local schools. Linguistics professor Janet Powers will teach the first four-week intensive workshop during the teachers' vacation this April. Another intensive will be offered in April 2018, with informal practice sessions designed to maintain and build skills scheduled throughout the intervening year. In January, Janet accompanied us to the Chin Hills to run a pilot session with 15 eager high school teachers. We were impressed by Janet's approach and encouraged by her students' enthusiastic response to her.
We were gratified to find that the children at Metta Geha are well and that several of the older ones are pursuing career opportunities such as weaving, nursing, teaching, and law. We continue to fund staff salaries and nutritious food, while we work with local experts to identify an agricultural program that will contribute to the food supply while generating an income stream. Our work has been complemented by two other organizations that have funded a new community room, kitchen and dining area, and boys' toilet and shower area.
We continue to be inspired by the substantive and forward thinking education provided at the Sanda Rama Monastic School. Because they are unable to pay teachers as much as the government schools do, Sanda Rama frequently loses talented educators to higher paying jobs. Metta Partners is supporting an increase in teacher salaries this year while partnering with leader Ashin Sanda Wara on a program that will raise them permanently, while also benefiting the surrounding community: Safe drinking water is in short supply in the impoverished township in which Sanda Rama is located. The school leadership has purchased a water filtration system so they can produce purified water for the school and to sell to local residents. This will reduce water borne diseases, while creating a revenue stream that enables the school to increase teacher salaries permanently. Unreliable electricity is the final barrier to the project's success, and Metta Partners is working with Ashin Sanda Wara to raise money for a generator. At his request, we are also working with the Cetana Educational Foundation to plan and fund a teacher training program modeled on the one in Kanpetlet.
Jane Ring Frank and Jeannette Hargroves Taylor spent a productive and inspiring week with the students of Gitameit Music Centre, conducting, rehearsing, and teaching. This year's workshop focused on Johann Sebastian Bach's music, including the Magnificat with small string ensemble, Ward Swingle's arrangement of Gavotte (French Suite, no. 5), and Ed London's de-composition of the chorale Come, Soothing Death. Instead of producing a concert this time, the students spent time at the conclusion of the workshop honestly and generously sharing their lives, worries, and aspirations—both musical and personal. Metta Partners funded scholarships for four of these Gitameit students, awarding effort, professionalism, and focus.
---
Our Next Trip: January 2017
December 30, 2016
Our next trip will be in January 2017 and will continue our work at Gitameit Music Center and Sanda Rama Monastery School in Yangon, as well as with Metta Geha Children's Home in Kanpetlet. Representatives from Cetana Educational Foundation, including the foundation's President, Chenault Spence, will travel with us in preparation for the English teacher training program we will run together.
---
A New Partnership

December 28, 2016
We are pleased to announce the launch of a new partnership between Metta Partners and Cetana Educational Foundation. With a shared interest in education, we will begin our work together by giving residents of Kanpetlet an opportunity to learn English in order to improve their employment prospects, especially in the tourism industry.
Youth now study English in the government schools, where fluency is not a realistic prospect. Textbooks are in short supply and instruction focuses on memorizing material that will be on the matriculation exam, with no opportunities for listening or speaking. Many of the English teachers are not able to speak proficiently themselves.
Through the Cetana-Metta partnership, we will provide English textbooks for students; design courses for local English teachers who teach in the primary, middle and high schools; and work with the children at Metta Geha Children's Home. Building on this effort, English classes will then be offered to local adults and high school graduates who plan to attend college.
---